Looking for wholesale furniture for retailers? That's great, you're in the right place.
Indonesia is rich in forest products by producing commodities that can be converted into high-quality handicrafts. One of them is typical Jepara furniture with its popularity across continents. These products can be widely recognized because of the role of Indonesian wholesale furniture.
The great of furniture wholesale from Indonesia
As professional wholesale furniture in Indonesia, furniture trading activities are carried out on a large scale. But that does not mean without paying attention to service quality. In the production process, forest products in the form of wood can be formed with various crafts of high artistic value.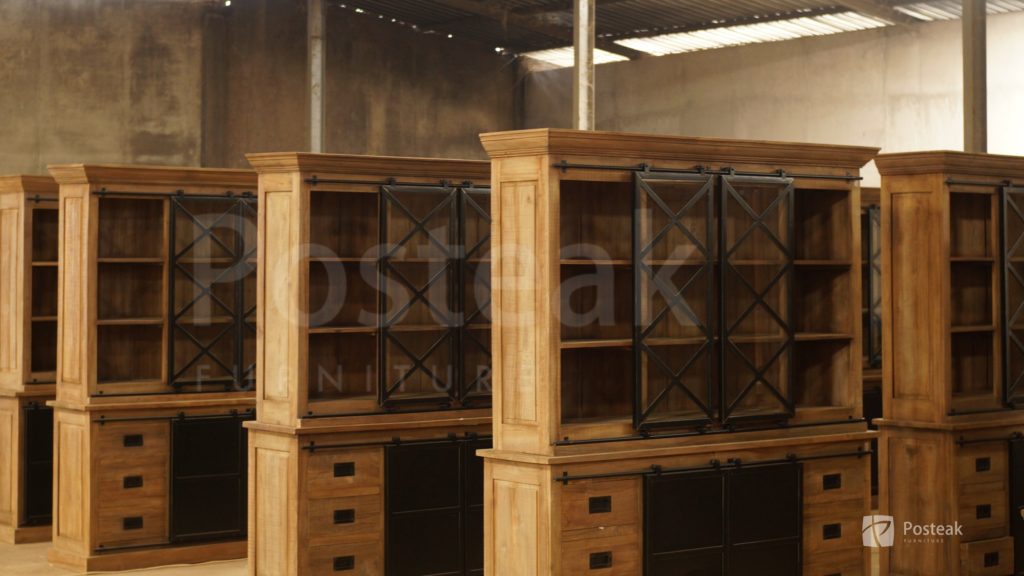 Wholesale furniture for retailers in Indonesia, in order to be able to trade their products legally, is equipped with an official license. In fact, the wood that is the main material for production generally comes from the Indonesian Ministry of Forestry, thus preventing illegal logging.
Wholesalers are also equipped with the authority to send their goods overseas. So do not be surprised if his role also includes exporters of handicraft materials from Indonesia. Unexpectedly, the Jepara furniture product has received a positive image and appreciation for overseas customers.
Some Privileges of Buying Furniture at Posteak Furniture
If this customer is looking for a trusted Indonesian wholesale furniture for retailers, the answer is Posteak Furniture. The company, which is headquartered in Jepara District, Central Java, is widely known as a trusted furniture manufacturer and distributor. The following are specialties that not owned by other parties:
Having Experience For 2 Decades
This wholesale furniture from Jepara already has high flight hours, especially in terms of providing household furniture needs. For more than 20 years, this company has built customer trust through a variety of quality products made of wood.
The company continues to grow rapidly and has presented a variety of innovations and is able to meet market needs. Filled by various experts and professionals so that they are able to apply according to customer wishes. Various models and color variations of furniture are presented in full.
Market Demand To Cross Continents
Sourced from the official website of Posteak Furniture, that indoor and outdoor furniture is able to penetrate the international market. Various types of furniture are exported to various countries in Europe, America, and Asia. This indicates that the quality of the product is no less competitive with those made in foreign countries.
The quality of service and household furnishings attracts consumers to complement the interior and exterior designs of the residence. Not only customers from abroad, of course the products from him can also meet the needs of customers in the country.
Is a Legal Wholesale Furniture for Retailers
All production, distribution, and trade activities of Posteak Funiture are licensed by the PERHUTANI agency so that there are no illegal activities. In addition, it is equipped with SVLK (Timber Legality and Verification System) certification so that it provides a sense of security when buying its products.
It is not surprising that convenience for convenience will be obtained by every new or already subscribed prospective customer. That way, both parties will feel mutually beneficial and trust each other.
The Difference between Indonesian Wholesale Furniture from Other Competitors
The presence of Posteak Furniture is not without benefits to customers. There is an important role in the presence of services like this. Especially if it is supported by a professional attitude and high flight hours, of course, its reputation will be increasingly recognized by local and even global consumers as:
In terms of quality
Indonesian wholesale furniture professionals are more trusted in providing quality products with high artistic elements. There are many types of furniture such as dining tables, television shelves, bar stools, dressers, vitrine cabinets, chests, and other outdoor furniture that are designed in such way.
One of the professional wholesalers in providing reliable quality furniture is Posteak Furniture. There are various products that have artistic value along with the strength of the ingredients. Designed in various minimalist, medium and large forms. Can give a classic or modern feel.
In terms of the condition of goods
One of the things that concerns customers is the condition of the product after it has been shipped. Often we find the condition of goods damaged, broken, broken, scuffed and so on. This condition can be experienced when buying household furniture due to poor packaging processes.
This is different when buying Jepara furniture of various sizes but through trusted wholesale furniture. The packaging process is very concerned about so as not to cause problems so that the condition of the goods is maintained without anything that disappoints the buyer.
In terms of marketing reach
A trusted Jepara furniture wholesaler has no doubt its credibility when it is able to reach the global market. These household products were eventually recognized by people across continents. This wide marketing reach is an advantage.
Broad marketing applies not only abroad but domestically to receive the same treatment. Buyers from various provinces, districts, and cities still receive the best service. So you don't need to hesitate to order furniture at Posteak Furniture.
In terms of completeness
It should be noted that professional wholesaler furniture, which is also a producer, sells a complete range of wholesale furniture for retailers. Not only limited to indoor but also outdoor furniture. So customer needs are not only limited to completing space in a dwelling.
Outdoor furniture such as dining tables, garden chairs, and various other types are available with various models. Even if they have their own design, customers can ask the manufacturer to implement the concept they want. So it's not wrong if wholesale furniture is needed.
Why You Should Choose Indonesian Wholesale Furniture?
There are at least 4 important points that you will get if you shop for products at Indonesian wholesale furniture for retailers, here are the review:
Can Be Customized With Customer Request
Jepara wholesale furniture is trusted to provide services that prioritize customer satisfaction. So that whatever the form of customer requests will be endeavored to give results as expected. Perhaps the buyer has a concept of design or a choice of its own.
Wholesalers who are equipped with experience and experts, certainly do not mind applying the concept of furniture based on customer requests. This can be seen in Posteak Furniture when providing custom orders for them if they want to determine their own design.
Can Buy in Large Quantities
It is undeniable that in trading, customers want to buy Jepara furniture in large quantities. Wholesale furniture itself does not only act as a distributor of goods but has the capacity to produce these household items.
If it is found that customers want to buy in large quantities, this can be realized as long as the availability of raw materials is sufficient. In addition, there has been an agreement between the wholesaler and the customer regarding how many orders, payment processing and so on.
Provide a warranty if found damage
Professional furniture wholesalers will prioritize customer satisfaction which is why products are not traded arbitrarily. Each product undergoes various quality tests whether it is worth selling or not. That is why it is rare to find goods in a damaged condition.
If problems are encountered later, the customer deserves a guarantee in the form of money back or replacement with a new condition product. This then becomes one of the supporting factors for customers to choose a quality Jepara furniture distributor.
Can Request Sample or Product Sample
Customers can entrust their choice of furniture to wholesale furniture by requesting product samples. This is to ensure quality and resolve customer doubts regarding the condition of the goods to be ordered. The distributor will send samples of the goods.
The cost of sending samples is generally carried out by the customer first. After that the shipment process will be followed up. As for the cost of furniture samples, the customer does not need to pay a penny. If this example makes the customer sure, they can continue the purchase transaction.
Read: Benefits and Product Wholesale Furniture Indonesia
How To Buy Wholesale Furniture from Indonesia?
Jepara typical furniture has various selling prices. Many customers order it for personal needs as well as for business. When ordering from trusted wholesale furniture, there is a need for a secure and mutually agreed upon payment transaction process.
For example, see furniture distributors such as Posteak Furniture. The furniture manufacturer applies a 40% down payment system. After that, the remaining costs can be paid based on the invoice provided during the delivery process.
In a trade transaction, there is a possibility that the customer can act as a reseller so that they will resell their goods to other buyers. In these activities, of course, it requires a small amount of capital but provides benefits in selling furniture products.
This is legal because the wholesale furniture for retailers itself produces and distributes goods to customers at wholesale prices. This opportunity can later be used to gain profits in the resale of various types of furniture.
Is it possible to have long-term cooperation?
Between producers, distributors and consumers show mutual need. Professional wholesale furniture opens opportunities for cooperation with customers and other suppliers to participate in marketing Jepara's signature furniture so that it is better known by the wider community.
Posteak Furniture shows this form of cooperation by building a family concept. Starting from the distribution of raw materials, quality assurance to furniture up to the buyers, Indonesian wholesale furniture builds good relationships with customers.
When carrying out all operational activities, wholesale furniture also has a permit. This is done so that buyers avoid any unwanted events when making transactions. Customers will certainly feel disadvantaged if it turns out that the producer has violated the law.
Licensed furniture manufacturers and distributors are equipped with a legal certification from an authorized institution. In fact, in terms of obtaining materials and resources, it is licensed by the Indonesian Ministry of Forestry. This is so that there is no indication of illegal logging.
Get to know the Track Record of Indonesian Wholesale Furniture
Experience can determine how much impact wholesale furniture has when serving customers. The longer the flight hours, the many products that have been produced and reach the customer. An experienced furniture seller with criteria like this is seen in Posteak Furniture.
Building a furniture business for 20 years, you can imagine that a lot of furniture has been produced and sent to the customer. In fact, based on information from the official website, this company has experienced a rapid increase and is able to reach local and global markets.
The ability of wholesale furniture to reach a broad market shows their credibility in distributing these typical Jepara products. This coverage is certainly a positive value for customers even though the location of the residence is far from the location of the producer.
If the distributor is able to serve across countries then for local coverage this is not a problem. Cross-island, delivery of furniture can still be done if the customer has indeed placed an order as well as full payment for the item.
Pay attention to this when choosing a trusted wholesale furniture
After knowing the reasons why wholesale furniture is needed, the next step is for customers to find out about the furniture manufacturer or distributor. This is in order to obtain product quality assurance, along with the reviews:
As much as possible to have an official website
Currently the influence of the internet in providing information as well as a marketing medium is something that can be utilized. It is only natural for a professional furniture wholesaler to have an official website for users to visit in order to obtain clearer information regarding the scope of the company.
Through this official website, visitors can understand what products are being traded, such as the company's history, how to contact the wholesaler, and the steps such as placing an order. Users who treat this information can be educated.
Able to Fulfill Customer Demand
Jepara furniture manufacturers are filled by various experts who are supported by the ability to design various forms of furniture. There are times when customers have their own taste in expressing the concept of household products as to what they think is better.
This is certainly a challenge for producers who should be able to implement furniture according to customer demand. If wholesale furniture cannot afford it, it is feared that they will move to another competitor with all their advantages.
Many choices in contacting Wholesale Furniture
Customers are also filled with curiosity about wholesale furniture services. So it is not uncommon for them to want to do a consultation or question and answer first. This needs to be supported by contact information that is active when the customer invites communication.
Posteak Furniture realizes the importance of this so that it provides a lot of contact information so that it can be reached by consumers. Not only including phone numbers and email, the company also has social media accounts in the form of Facebook, Instagram, Linked In, WhatsApp, and web chat features.
Pay attention to the completeness of the product being sold
Marketing of furniture through online sites allows visitors not only to understand information about the company's history. Users can also see various products that are marketed so that they can know how complete the variety of furniture is when served to consumers.
Completely furnished when presented to visitors will provide attraction and many choices. Visitors can freely see which furniture suits their taste. It is not impossible, customers will buy more than one item of household furniture.
Pay attention to customer reviews
The company's reputation will be well-known by many people if many consumers are satisfied with the services provided. Generally, reviews can be obtained through the official website or previous buyers. This is an illustration of what the advantages of the company are.
Customer reviews can also be a driving force for a company's reputation to evaluate certain deficiencies or aspects in terms of serving customers. The more customers who have ordered furniture at the wholesaler, the consumer reviews will be even more varied.
Bottom line, this is the discussion related to Indonesian wholesale furniture for retailers which can be a picture for customers before buying household furniture. It is recommended to buy furniture from one of the producers and distributors of quality furniture from Indonesia, namely Posteak Furniture. Cheers!