When you hear the word "antique", what are the things that come into your mind? Is it something associated with class, elegance, and vintage? Antique is considered timeless and many would look for this style in different kinds of aspects, from clothing to furniture. However, due to the rocketing prices and rarity, not everyone has the opportunity to come across authentic antique furniture. To tackle that hindrance, reproduction furniture is made for those who want to achieve an antique look without having to worry about the expense.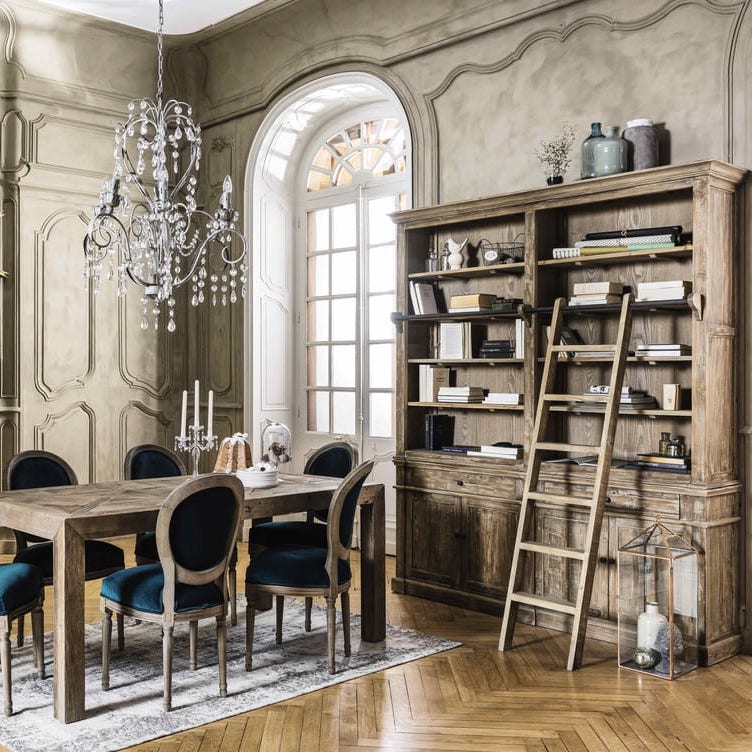 What is Antique Reproduction Furniture?
Antique reproduction furniture is crafted to closely resemble the real antique products from the 18th and 19th centuries. It is a great alternative if you look for furnishings that are exactly designed just like authentic antique ones, but at better deals and prices.
The cost of finding and purchasing real antique furniture could vary, yet most of them are sold in high ranges due to the rareness and, of course, the history behind every piece. It is certainly not a good start if you have a fancy taste and a limited amount of budget. Therefore, reproduction furniture could be the perfect solution.
Although it is labeled as "reproduction", you should not be deceived by the price and quality it offers. To take after the antique's durability, reproduction furniture is usually made of high-quality wood using modern craftsmanship. In a more fair price tag, the value will not decrease as time goes by.
Another thing that should be celebrated from reproduction pieces is the possibility to customize them according to your taste. A lot of furniture manufacturers do provide catalogs of these particular products, but they are usually open for further adjustments to meet your needs.
How to tell the difference between antique and reproduction furniture?
Nothing is a bad decision; the choice is entirely in your hand to pick between an authentic antique or reproduction piece. However, we believe it is essential to truly understand what aspects that might differentiate both of them.
Here are several tips on how to make sure that the furniture you're purchasing is a true antique piece or a reproduction one:
1. Determine the type of wood
Furniture that was crafted in earlier ages normally used several kinds of wood in one product. This is due to the high cost of using one particular wood, which is considered more expensive. One of best kind of wood to tell for produce antique reproduction furniture is reclaimed teak wood
To know if your furniture has secondary wood, check the areas that are not easily visible, such as the interior of the cabinet drawers. Reproduction furniture usually has the same type of wood in and out. If the hidden areas consist of more old aged wood, it's most likely an antique.
2. Inspect the wood condition
Another easy way to find out whether you have antique or reproduction furniture is by examining the wood condition. Newly-produced furniture pieces are typically made with modern nails, screws, machine-cut carvings, and fixed colors. This definitely differs from the antique ones, which were usually built with hand-cut details and rose head nails.
If you have a circular-shaped table or side table, it could be easier to notice the difference. Wood shrinkage caused by aging could make the round edges look imperfect, which is notable in antique furniture.
3. Check the upholstery
Aside from the wood type and condition, it is also important to identify the materials used in your furniture upholstery. Antique pieces that were majorly produced before the 1920s generally used natural material, such as horsehair.
This characteristic won't be found if you have antique reproduction furniture. Modern furniture manufacturers typically use synthetic fibers to sew the upholstery.
4. Look for any signs of wear and age
Authentic antique furniture often has signs of wear and age. This is not a surprise since the piece has already passed through years–or even centuries–of usage. These obsolete qualities like the uneven patina, wobbly feet, stains, or even dirt build-up are certainly hard to find in furniture that is freshly manufactured.
5. Examine the irregularity and asymmetry
Traditional craftsmen coming from ages ago produced antique furniture, so it is safe to say that the pieces were entirely handmade. Therefore, it is possible to find asymmetrical edges in antique products.
On the other hand, antique reproduction furniture is generally crafted with seamless edges and regular shapes. This cannot be separated from the fact that the modern manufacturing process definitely uses a more developed technology.
Things you should take notes on
Remember, the aspects above are not the absolute factors to guarantee whether your furniture is a reproduction or a true antique
A furniture manufacturer can use rose head nails on its reproduction pieces to bring out the antique element to light or replace natural stuffings on an antique chair with new upholstery. No need to worry because most manufacturers will attach the details regarding when the piece was made.
If you have considered purchasing an antique reproduction piece for your home, Posteak would love to help you design and craft the best furniture that goes perfectly with your style. Feel free to connect with us through [email protected]