Indonesia has known for the wood furniture industry. Regarding the Indonesian Furniture and Handicraft Industry Association (HIMKI), in 2018 the export of Indonesian furniture products is expected to reach USD $1.95 billion worth, and potentially to grow by 2019. Jepara wood furniture manufacturers play important roles in this business. The local craftsmen and manufacturers did a great job in crafting the woods into beneficial furniture products. They produce wide-ranges furniture products and crafts for the export market. For this reason, makes Indonesia wood furniture is very popular and they can grow their market industry for export to the worldwide market.
Why Import Furniture From Indonesia
Authentic, Wide-Range Collection. Indonesia furniture has a broad range of furniture collections to fulfil your furniture needs.
Competitive Price. Furniture from Indonesia still has a competitive prices on the international market.
Professional Supplier. Indonesia has a lot of furniture suppliers to assist in making furniture for business.
High-quality Materials. Furniture made from Indonesia use solid wood as main resources for furniture.
Legal Timber Resources. Importing furniture needs legal authentification, Indonesia have SVLK system to protect legal timber resources and products.
Import Furniture at Best with Posteak
Unfortunately, seeking prospective furniture manufacturers and suppliers in Indonesia will be an overwhelming process. There are plenty of companies that offer plenty of products and services. In this case, awareness about the scope of business and products is very important to understand. Here, Posteak Furniture offers a solution through our competitive advantages for the furniture business.
Posteak Furniture® as one of the prominent furniture manufacturers in Jepara has more than 20 years providing high-quality furniture for indoors and outdoor. We export to the whole country in Europe, America, and Asia at wholesale price. We always wanted to have a strong long-term business relationship.
Our scope of business is providing buyers with products and services that match their needs.
Professional Supplier
Due to a lot of furniture suppliers in Indonesia, you need to be aware of their scope of products and services, not all furniture suppliers are honest and competitive. A strategic approach to finding professional suppliers and manufacturers is by knowing their products and services and matching it with your business objectives. Research about competitive advantages and experience of the supplier to make it clear their business's track record.
Posteak Furniture is established in 1997 when the furniture industry in Jepara was highly praised. Until now, we have had long-term business over the world, which means we have trusted suppliers. With our quality and services, we always focus on customers. For example, we have a buyer with more than 10 years of working with us and still. This is means we strive to give the best value and prices to the buyer's business also. We understand that the profit of your furniture business is important.
Competitive Price to Import Furniture From Indonesia
Due to a lot of furniture manufacturers and small-medium enterprises in Indonesia, moreover in Jepara. Price will be very competitive for each manufacturer. Please keep in mind with manufacturers which offer a very wide different/lower price than others, can affect the quality of the furniture, the woods or materials furniture with lower quality standard can affect your furniture business as well. Be aware of the materials is very important.
Posteak Furniture offers wholesale price for B2B market. We can guarantee that our price will meet the best quality and best value for the products because we believe that profitability for your business is important.
Import Quality Furniture
Import Indonesia Furniture can't be denied that quality is important. Even though Indonesia, Jepara furniture is already known for the quality of furniture, not all the manufacturers give the same quality standards. The quality of the manufacturers, quality of the woods and materials need to be identified.
Posteak Furniture provides legal, grade A/B quality of furniture, with the proper process of kiln-dry to avoid crack after shipped. Local craftsmen play roles in crafting the details of each product. Quality construction is also determinant for the durability of the products.
Import Legal Furniture
Solid Wood: The resources of solid wood especially teak wood has been naturally having high-quality in Jepara Furniture Industry. By number, Indonesia is the second-largest producer of teak wood. In Java, the centre of the Indonesian teak industry, the industrial demand for teak timber is 1.5 to 2.2 million m3 per year. Moreover, Indonesia Government – PT. Perhutani conserves the teak wood plantation for keeping the resources renewable.
All of our teak wood resources comes from legal PT. Perhutani and have SVLK certificate for exports purpose, so it will be easier for the buyer to import furniture with legal certification rather than import illegally.
All of our products will be processed properly. We keep maintaining with A and B Grade Quality of teak wood for production, also with the maximal kiln-dried process. As furniture experts with more than 20 years of experience, we know how to process and produce teak wood into long-lasting furniture products.
Other materials: Iron, aluminium, or stainless steel materials for the model of the industrial categories. Durability is important for furniture with metal materials. Proceeding and finishing properly will make it long-lasting furniture.
Scope of Products to Import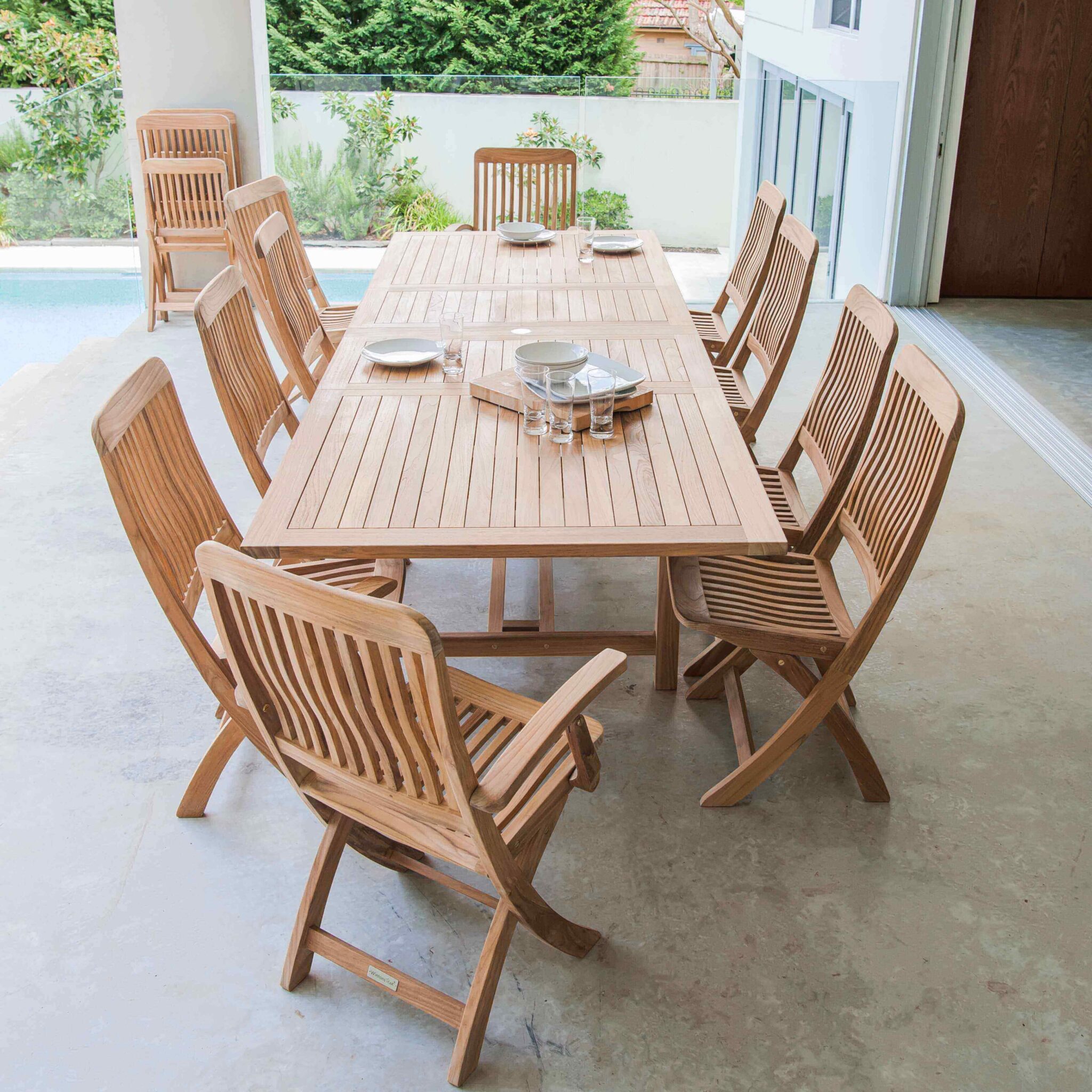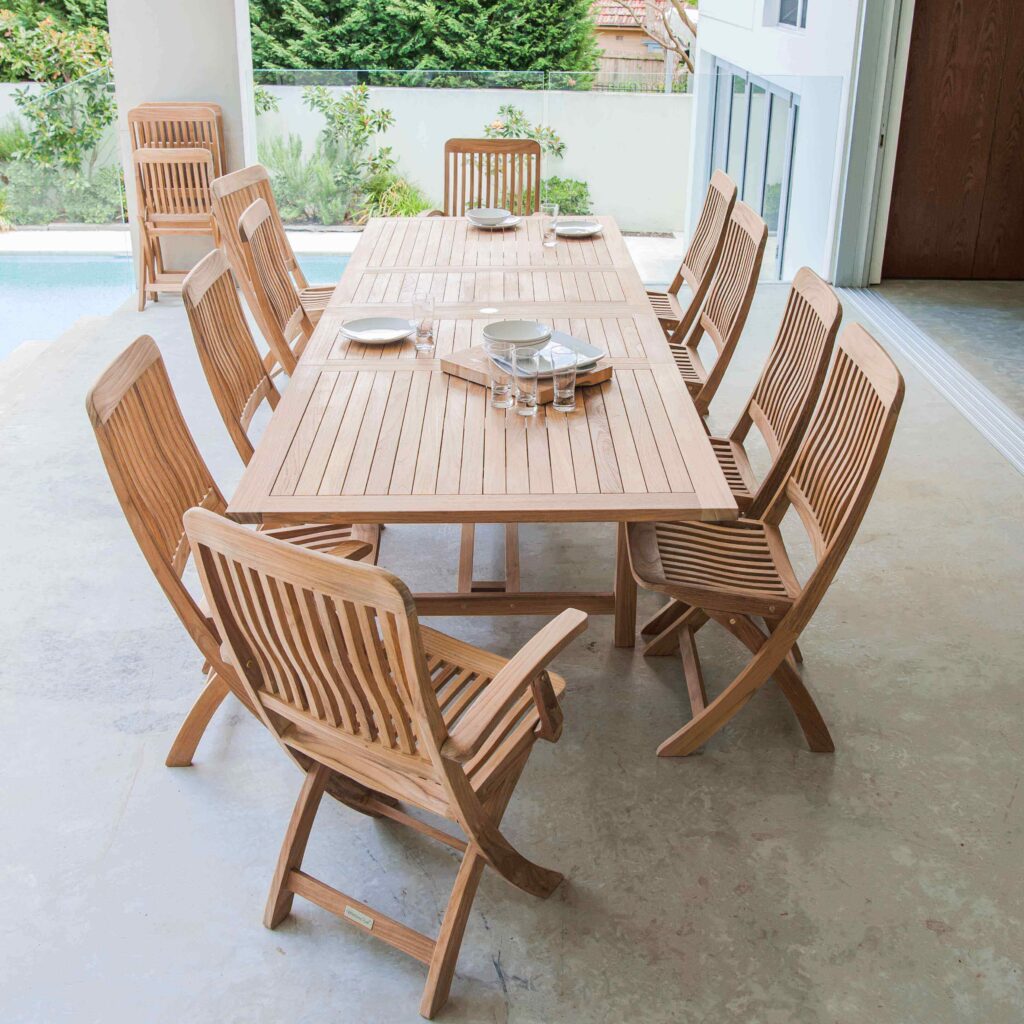 Dining Furniture
Posteak Furniture is specialized in dining furniture for indoor and outdoor. Our dining collection is the most popular product that our customers want to imports. We have the capabilities to create a wide range of variations to convince that we always innovating our products in order to follow the market trends and customer needs. The category ranges from industrial, reclaimed, classic, and modern styles.
Living Furniture
Posteak Furniture also crafts indoor furniture collections with authenticity. Good choice for those who love products that differ from the others. Products range from cabinets, dressers, tv stands, chests, and bookshelves. Most of this furniture collection is made from reclaimed wood.
White painted collection for indoor furniture. Cabinets, Dresser, Tv-Stand made of solid wood with white painted colour to give classic – french style design. For some products design, it also combined with rattan racks
Outdoor Lounge and Dining
Posteak also provides Outdoor Garden Furniture for your outdoor living spaces. Made of solid teak wood with premium A/B grade quality with proper kiln-dry. Our outdoor product ranges from benches, tables, dining tables, chairs, and loungers for dining and also lounge sets furniture.
How to Import Furniture from Indonesia
The first thing that buyers should do is to find the right products for their needs and interest then find the right furniture manufacturers for negotiating the capabilities of producing the products. Reviewing and comparing each manufacturer will be overwhelming but it's worth it.
Imports Indonesia furniture products will be going through to the port harbour in Semarang, or Jakarta and Surabaya with the container. The shipments usually take 4 weeks after depart from Indonesia.
SVLK Legal Wood Certified Furniture is Important: As we mentioned earlier, it's important to find a manufacturer which has the legal certification. as governments regulations, the buyer only able to import solid wooden furniture from Indonesia if the furniture is certified wood.
A simple step if you are willing to import furniture from us. We always welcome the buyer to visit our company to make everything is clear.
1. Discuss the Order
Discuss your furniture needs and interest with us. Visit our factory will make it easier for buyers to check the production capacity, quality, and sample products.
2. Arrange Order
We will arrange and negotiate the order quantities, prices and shipments. After all is clear, and we receive the deposit, we will start the production.
3. Production
We will process the orders. Normally it will take 6-8 weeks of production to finish but also depends on quantity and agreements.
4. Shipment
We will arrange the shipments as per our agreement from deciding EMKL container, scheduling shipments until loading products into the container. Approximately shipping will take 4 weeks from Indonesia.
Bottom line, Why Posteak Furniture?
Import furniture from Indonesia still can be a great option for your furniture business. Though, find and match the products and the manufacturers quite overwhelming. We give a solution with our value that will help to provide furniture.