To give your home a more vintage and gentler atmosphere, you may want to consider British Colonial furniture style as an ideal choice. With its emphasis on simplicity and class, this style would effortlessly speak elegance by itself rather than exaggerating with overwhelming decoration. Below are simple guides that you can follow to properly enhance your room with British Colonial furniture.


How to style a room with British Colonial furniture
At its glory from the 16th to 20th centuries, the extensive power of the British Empire was established across the globe. Stretching far from India, Africa, to the Caribbean, this was the crucial period for new discoveries to be translated and adapted locally. One of the emerging aspects that are notable during this era was British Colonial style.
Adopted from the classic Britain identity, this style was developed under various kinds of cultural influence, which then created a sense of freshness, yet still maintaining its elegance and gracefulness.
Apparently, the whole process of cultural fusion has invented a look that inspires people up until now, especially for those who look for a relaxing and chic ambiance for their home.
It takes a slight detour back to the past with a little bit of imagination to plan this style for your house. To apply the British Colonial style, it is highly important to visualize how the furniture, the room tone, and the arrangement are combined into a harmonious unity.
Getting a little bit of difficulty in imagining your room with this particular style? Here are several tips that you can pick up in order to make an area worth living and loving:
1. Invest in solid wood furniture
One of the key pieces that you should prioritize in order to acquire British Colonial style is solid wood furniture, mainly those that are specifically crafted for this style. We highly recommend you to invest more in materials consisting of hard wood, such as teak wood or mahogany.
Furniture that is manufactured for this style is naturally embodied with curves and distinctive patterns, which enhances the antique and country-esque feel to your home without having to go overboard.
To complement the firm design, British Colonial furniture has a one-of-a-kind finish, which appears from the subtle mixture of deep and bright shades. This will definitely uplift the whole artistic fashion in your furniture without putting additional patterns on it.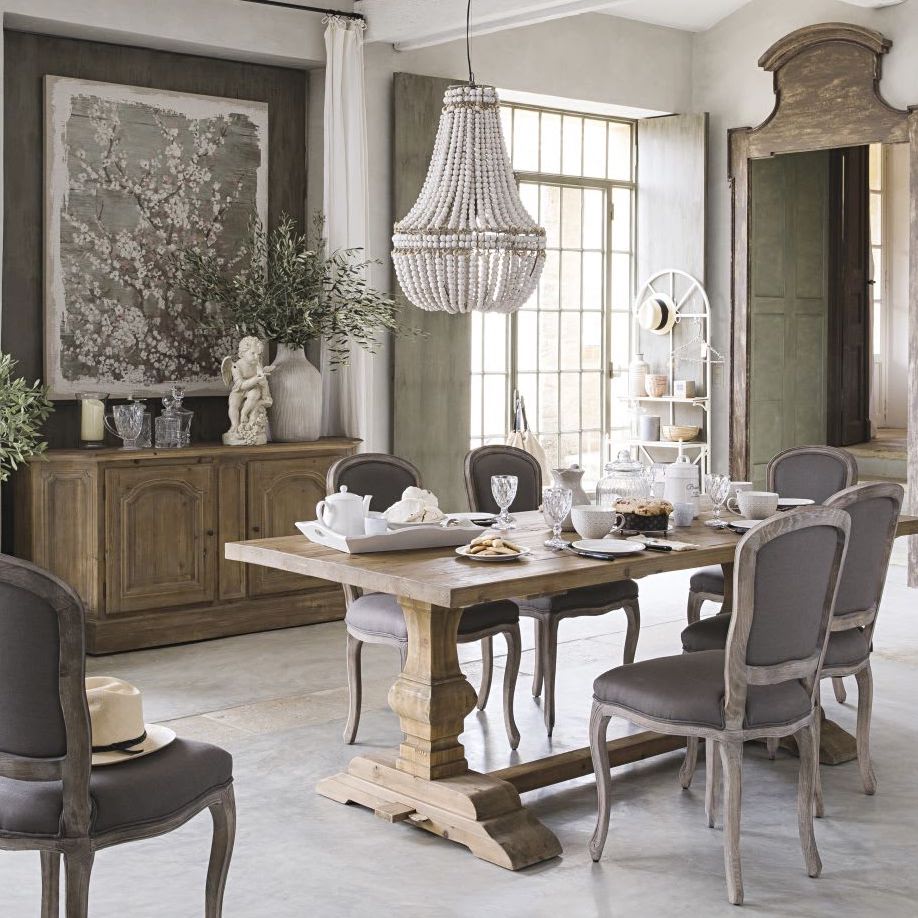 2. Comfortable corners to sit
As we mentioned on taking a walk back to the past, you can imagine spending an intimate weekend in London with your loved ones.
The moment you step into the living room, you will witness people enjoying the time, sitting on sets of chairs, sofas, and lounge seats upholstered with fine-quality fabrics or linens. At the top of the table, a tray full of biscuits and scones are served.
This imagination of a sophisticated afternoon tea time would be perfect if you manifest your British Colonial room with comfortable furniture to relax. To achieve this, it is essential to obtain large chairs or cozy sofas, complemented by timber side tables to accommodate the luxury and convenient feel.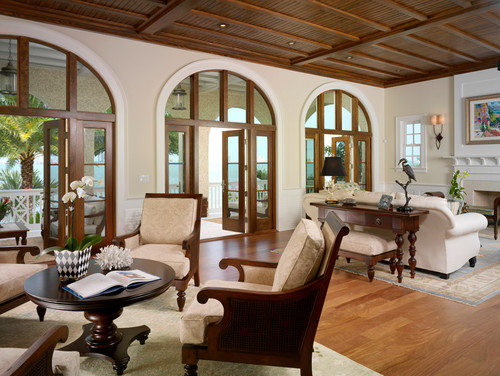 Photo by Cooper Johnson Smith Architects, Inc. – Browse living room photos
3. Neutral and warm shades
If you wish to maximize the application of British Colonial furniture in its entirety, adding warm and neutral white elements is significant, too. This will bring the beautiful contrast to your dark-colored furniture, while not forgetting the touch of elegance.
These can be achieved by setting a broken or chalky white for the walls or paneling, and combining it with light brown drapes or shutters to create a classical disposition.
4. Rattan furniture
British Colonial style cannot be separated from its diverse influence, mainly the tropical island. To incorporate this influence effortlessly, you can add a few tropical elements, such as rattan furniture.
The natural appeal of rattan gives an effortlessly classic and rustic look to your whole personal space. Some furniture examples that can be built of rattan side tables, chairs, or lighting covers.
The warm tone that comes from this material will certainly be a perfect match for your existing British Colonial furniture.
5. Add some greeneries
Another element that should not be missed to enhance your British Colonial furniture is indoor greenery. A little injection of dark or bright green to your room would definitely step up your interior game.
It doesn't matter if you decide to go with small plant pots or larger indoor palms. You can opt for purchasing faux plants if you are not sure about putting more effort into taking care of live plants.
At Posteak, we provide a wide selection of furniture that you can adjust according to your taste. If you'd like to apply British Colonial design into your home, we would love to help you find and craft the best furniture that suits the style perfectly.