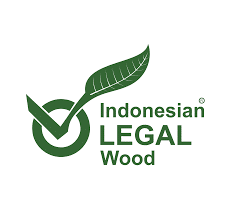 What is SVLK?
SVLK – (Sistem Verifikasi Legalitas Kayu) is a sistem and procedure which designed to pursue the legal verification for Indonesia wood and wood products. It assigned to implement Indonesian governments regulation related to control legality of wood trading and circulation in Indonesia. SVLK will enhance competitive advantage for the country's wood products.
Why SVLK?
Now, the demand of legality assurance of wood and products be considered as important, especially fo international market. According to Forest Law Enforcement, Governance and Trade (FLEGT) in Uni Eropa (UE), they asked every wood resources need to have legal certification. It is a plan for fight against illegal logging and increasing forest management in the world. So, in this case Indonesia Governments participated on it. SVLK will improve governance of Indonesia's forestry business through effective administration and management thereby reducing illegal logging, illegal trading and illegal exportation.
What is Benefits SVLK for Manufacturer?
With legal certification, producer/manufactuer have more credibility of their wood products for export and expand business in international market. It makes export business for manufacturer run smoothly through system procedures and document legal of SVLK.
What is benefits SVLK for Buyer?
Company with SVLK certification give a certainty and assurance, especially for European, America, Japan, Australia market and other countries who concern that the wood and products from Indonesia Manufacturer is comes from legal authentification from upstream to downstream. It makes they import safely to their countries. Moreover, buyer who import from legal sources means they participated in safe the world form illegal logging and keep the forest sustainable.
What is V-Legal Sign?
V-Legal sign is a sign that affixed to the wood, wood products or packaging to state that it already fulfill SVLK standard. And proved with ownership of S-PHPL or S-LK (Wood Legality Certificate). 
What is V-Legal Documents?
It is a license document for export wood products which applied to 48 HS-Code. This document is published for every invoice. Document V-Legal will be valid 4 months after issued.
Common Problems
SVLK certification is actually good and has positive impact for the future furniture industry, but it still "undermined by the nation's weak timber administration system, the lack of planning and data, an unreliable monitoring system, and poor law enforcement" (indonesia-investments).
Bottom line, having legal certification is actually protecting the business in wood industry to be more sustainable for the future, also it shows our concern to participated for the sustainability of world forest. Posteak Furniture is one of furniture company that already have legal SVLK certified.